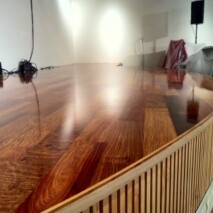 What finish should you use? Water based or oil Swedish finish?
Using a water based finish, will tend to mute the natural wood tones making the floor more pale. We can use a compatible deep tone sealer for bringing the deep color out of the wood. Water based finishes are the environmental choice and superior for indoor air quality.
Swedish finish will bring a deep color out of the wood, however, this finish is old technology with harsh chemicals in its makeup.
We decided on using Synteko Swedish finish.

Dustless sanding was used to protect the seating, carpet and sound equipment from a dusty mess!