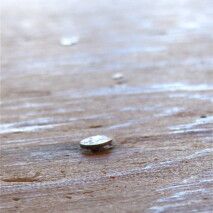 Walking over the old carpet, this floor made noises!
Clunk, squeak! Annoying noises that had to be addressed before the new floor is installed. After the carpet, pad and tack strip were removed it was obvious what was happening. The sub floor was poorly nailed down when the home was built. I would say 20% of the nails were sticking up off the sub floor an 1/8." Some of the plywood wasn't even nailed.
Pound down all loose nails and screw the whole floor down every 6″ was the remedy! No squeaks or clunks!
Come on people, lets do it right the first time!